Steam Sterilizer(CHS-ACCE860)
Trader

[JW Medical Corporation Co., Ltd.]

South Korea
Product Detail
Information
CHS-ACCE 860
AUTOCLAVE
INNOVATION OF STERILIZING & DRYING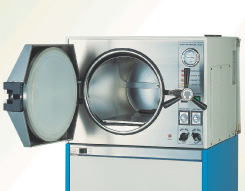 Features
Entire processing of sterilization can be easily observed by pilot lamps which is automatically operated by electro-automatic control system.
Front panel and door surface are covered with stainless steel STS 304 for rust proofing.
Auto-timers for sterilization and drying can be controlled freely in accordance with sterilization conditions.
Temperature switch can be selected freely in accordance with sterilization conditions.
The structure of chamber is designed in compliance with K.S.(Korea Standard) regulation of High-Pressure containers.
When the water of chamber goes below the fixed level, the built-in thermostat switch automatically puts off the power and audible alarm also sounds to warn.
Silicon rubber mounted on the door inside is specially designed for keeping the high-pressure.
All of our products go through 4 different quality inspections before they are released. However, we make it a rule to dispatch our well-trained after-sale-technical service engineers within 24 hours from receipt of repair calls.
Cabinet(Option)
In case of need, it will be attached cabinet which is convenient for keeping sterilized materials. Ultra-Violet Lamp is installed inside cabinet so as to prevent sterilized materials from air-contamination.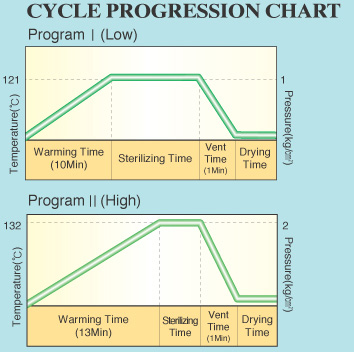 Circuit Block Diagram

Examples of Use
Item

Temperature
(°C)

Pressure(kg/cm2)

Sterilizing
Time(Min)

Drying Time
(Min)

Instruments

121
132

1
2

20
7

10
10

Cotton/Rubber

121

1

15

10

Wraped Instrument

132

2

7

5