OPERATING LIGHT Dialux Series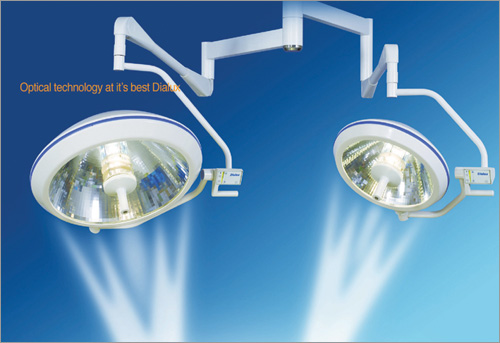 The Secret of High Illumination Cool Light
Ideal Color Temperature
Opinion has been varied in the past on the subject of color temperature(kelvin) of artificial lighting. Still today, it is generally believed as a general acceptance that the higher the kelvin comes the nearer to the natural coloring.
Howevery, in actual practice this factor alone does not provide an accurate solution. The greater part of our daily activities are carried out under 2500°K-5500°K and to our visual perception, color will be reddish in a lower color temperature but the tendency to turn bluish will become more as the color temperature rises.

From long experience and study of the man-made lighting, we have appraised that the color temperature range between 3800°K~4500°K from and incandescent light source performes the most ideal visual perception to the exposed objects. Our principal products, including, of course, this Honey-Lux series are being manufactured at standards of 4000°±200°K
High Intensity Deep Cavity Illumination and Shadowlessness.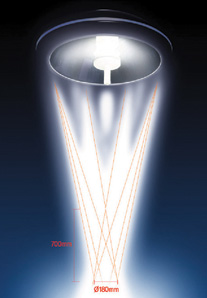 A REVOLUTION IN SURGICAL ILLUMINATION TECHNOLOGY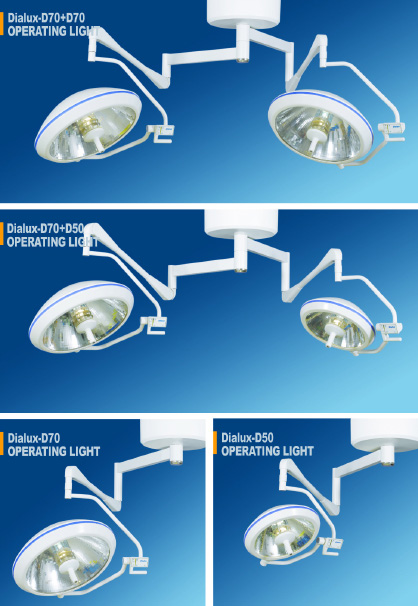 Features
Dialux D series multi-reflector shadowless operating light is an ideal lighting device for various operations in hospital.
The light beam with over 3,000 specialized reflectors ensure the shadowless and depth to 700mm.
Color temperature approaching that of sunlight, making the tissue surface visible in natural color, can help the doctor to distribute the operation parts clearly and accurately.
The extension arm and spring balance arm system are designed to position on the operation light in all directions, to meet various illumination requirements.
The life-span of halogen bulb is up to 1,000hours and the bulb can be changed easily.
Permanent light safety, the standby bulb will start work within 0.3seconds automatically when main bulb is damaged, ensuring the continuation of operation.
The dischargeable handle can be sterilized conveniently with high-temperature and pressure.
Digital control circuit offers many functions, such as 10step lighting regulation, brightness memory, slow start-up and power on self test etc.
High performance of illumination
The depth of illumination has been above 700mm with good shadowless and focus field is 140-200mm in diameter, which is use of multi rotated mirror reflector to over three thousands of reflection.
Color temperature compensation
The heat absorbing filter system which may achieve a genuine cold beam light, the color temperature compensation has provided a color temperature of similar with natural sunlight, and completely satisfy for the different requirement in operation.
Continuous light adjustment
The lamp is controlled by microprocessor and successive brightness adjustment. It has the function of lightness memory and electric voltage input which will work stably at a supply between AC180V~AC240V
Easy operation
The extension arm and spring balance arm system are designed to position on the operation light in all directions, to meet various illumination requirements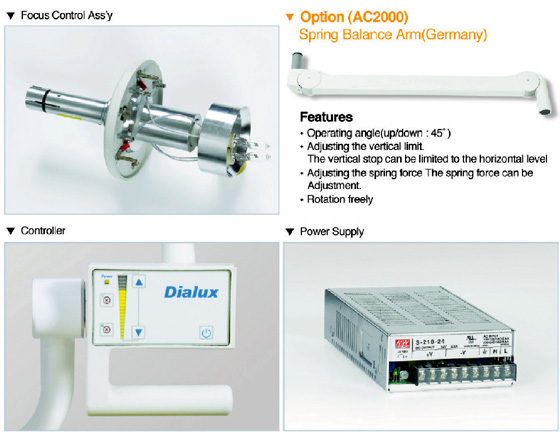 Dimensions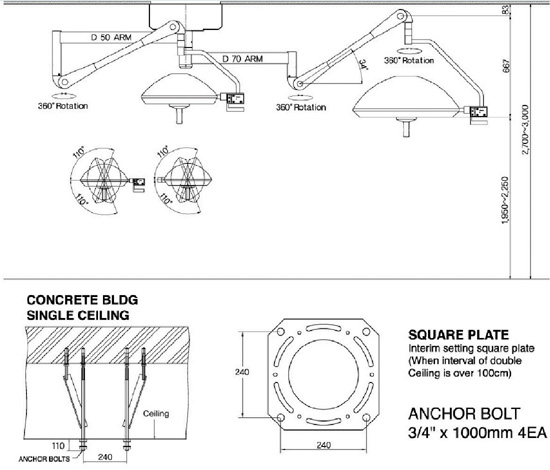 Specification
| | | | | |
| --- | --- | --- | --- | --- |
| Division | Dialux D70+D70 | Dialux D70+D50 | Dialux D70 | Dialux D50 |
| Diameter of Housing(mm) | Ø700+Ø700 | Ø700+Ø500 | Ø700 | Ø500 |
| Power Input(V/Hz) | AC220V, 50/60Hz | AC220V, 50/60Hz | AC220V, 50/60Hz | AC220V, 50/60Hz |
| Max. Illumination(Lux) | 150,000+150,000 | 150,000+80,000 | 150,000 | 80,000 |
| Color Temperature | 4,300 | 4,300 | 4,300 | 4,300 |
| Power of Bulb(W) | 150+150 | 150+120 | 150 | 120 |
| Temp. Rise(°C) | <5 | <5 | <3 | <3 |
| Light Adjusting Mode(Step) | 10 | 10 | 10 | 10 |
| Focusable Light Field(mm) | 200-250 | 180-220 | 140-200 | 120-180 |
| Life of Bulb(Hour) | 1,000 | 1,000 | 1,000 | 1,000 |