The CHS-1500 operation table is an electro-hydraulic multi-function system.
This multi-purpose table is designed to provide the perfect solution for various types of surgery.
Features
It is an electro-hydraulic multi-purpose operation table that is designed to offer quick and accurate positioning.
It is designed to run at a low voltage for safety. The tables undergo strict safety inspections, with the current leakage standard being set at less than 100μ A.
The compact hand control switch boxes offer easy and convenient controls with their rectangular switches and flexible cords.
As the positions are set by the hydraulic motor pumps and the hydraulic cylinders, the surf motion of the table makes patient on the table feel comfortable.
The table height may be adjusted between 710mm to 1020mm for best posture during surgery.
Each position is set by the operation buttons. In order to prevent any possible malfunctions, the tables are activated only when the Interlock s/w and each Position s/w are simultaneously pressed.
In order to prevent motor overload and lengthen the service life of the system, the table is de-energized by the auto control if the table has been in continuous motion consecutively for 5 minutes.
Dimensions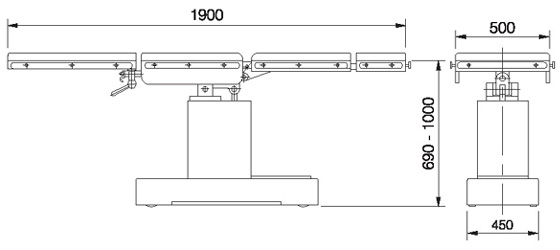 Accessories
Standard Accessories

1

REMOTE CONTROL HAND SWITCH

1EA

2

ARM REST

2EA

3

CHEST & WAIST SUPPORTERS

1SET

4

SCREEN FRAME

1EA

5

POWER CORD

1EA

6

MANUAL

1COPY

7

KNEE CRUTCHES

2EA

8

FOOT BOARDS

2EA

9

SHOULDER SUPPORTERS

2EA

10

DRAIN TRAY & WASTE RECEPTACLE

1SET

Optional Accessories

1

KIDNEY ELEVATOR

1SET

2

HEAD REST

1SET

3

X-RAY FILM CASSETTE PLATE

1SET

4

HAND SURGERY ARM REST

1EA
X-RAY & Image Intensification Capability