Surgical Suction Pump CHS-708
Trader

[JW Medical Corporation Co., Ltd.]

South Korea
Product Detail
Information
SURGICAL SUCTIOn PUMP (CHS-708)
The CHS-708 suction pump is an appliance for surgical operations and examinations. For removing dirt from and cleaning of the body part to be operated on, it provides low-noise, strong suction that can be adjusted according to the condition of the users.
Features
Its slim design enhances efficient space utilization in diagnosis and operation rooms.
The auxiliary bottle and the auto stopper (buoyancy type) prevent any dirt from entering the pump.
The displacement rate is 50L/min, reaching the highest output within the shortest time possible.
The motors and pumps are incorporated into one unit, offering noiseless, silent operation.
This oil-less type system is free from oil evaporation even after long use.
The check valve maintains the vacuum pressure for the time being during surgery or child delivery even if a power outage occurs.
As no oil is used, oil replacement is not necessary.
The suction bottle is made of plastic (P.C.), eliminating the possibility of damages in handling.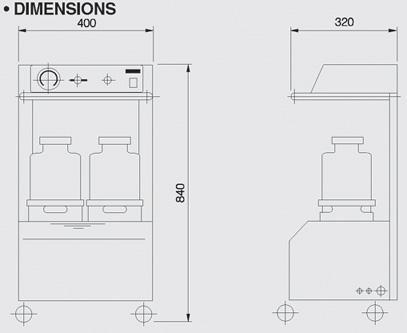 Specification
| | |
| --- | --- |
| Dimensions (W x D x H) | 400x320x840(mm) |
| Suction bottle(made of PC) | 3,000cc x 2ea |
| Max. vacuum pressure | 740mmHg ±10mmHg |
| Vacuum pump | Piston type oil-less pump |
| Motor | Single phase motor 0.25kW |
| Displacement | 50L/min ±10L/min |
| WHeels | 2" rotary wheel x 4ea |
| Voltage | AC 220V, 50/60Hz |
| Power consumption | 250W |
| Backflow prevention | Auxiliary bottle(float type) |
| Weight | About 25kg |
Accessories
| | |
| --- | --- |
| Foot Switch | 1ea |
| Suction tip | 1ea |
| Suction bottle(3,000CC) | 2ea |
| Ground cable | 1ea |
| Silicon hose(2m) | 1ea |
| Fuse(10A) | 2ea |