AUTOMATIC SCRUB STATION (CHS-MATIC I, II, III)
CHS-MATIC Series are complete equipment with a special micro-filtering system, heating system for hot water and ultra-violet sterilizer.
An ideal Scrub-Station which can be operated either manually or automatically.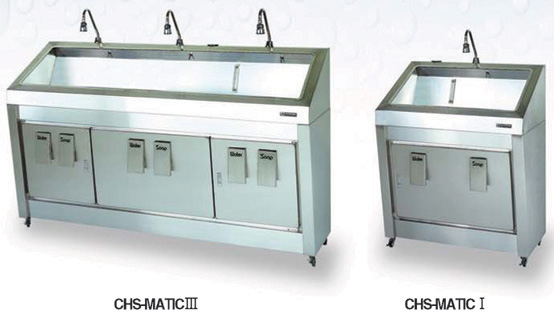 AUTOMATIC FUNCTION OF CHS-MATIC SERIES ORIGINATES
FROM THE FOLLOWING DATA CONTROL PANEL TO WHICH AN
I.C ELECTRONIC CIRCUIT IS ATTACHED ENERGIZED
AUTOMATICALLY ALL THE FUNCTIONINGS OF SCRUB-STATION.
Scope of Application
1. Operating theater for general surgeries.
2. OB/GY theater/Delivery rooms(bathing infants)
3. Operating theater for orthopedic surgeries.
4. Operating theater for neuro-surgeries.
5. Operating theater for ENT surgeries.
6. Other places in need of sterilized water.
Features
1. All automatic deluxe scrub station.
2. Sterilized water (99.6%) supply - two U.V. water sterilizing lamps.
3. Hot water supply for four seasons.
4. Thorough filtering - prefilter and main filter.
5. Easy operation by knee - water and soap.
6. Water pressure control device.
7. Safe-dual temperature sensors for safety.
8. Rust-proof materials-all stainless steel (SUS304) and copper tubes.
9. Charming design.
Basic Operations and Function
1. Heating
a. Hot water supply in winter.
b. Fast warming by one heater. (2KW)
c. Two safety thermo-switches to controll the in-creasing pressure of the warming tank.
d. Constant water temperature by safety thermo-switches.
2. Sterilization
a. The water can be sterilized to 99.6% (0.6T/H) by U.V. water sterilizing lamps.
b. The U.V. lamps are made of dual quart tubes for electrical safety.
c. Lamp use time can be read as life-timer is attached.
3. Filtering
a. Filtering to 10.. by pre-filter.
b. Filtering to 5.. by main-filter.
c. Thorough filtering by dual-filters.
d. Easy filter replacement.
RESULT OF TEST PERFORMANCE SHOWS THAT THE STERILIZATION CAPABILITY IS AN AVERAGE 99.6%.
Scrub-Station's sterilization performance test by the use of ultraviolet sterilization method.
1. method
Germs Used for Tests

E.Coil, P.Aeruginasa, B.Subtilis.

Test Method

Numbers of germs are measured after diluted them into the refined water, while each germ of testing are collected more than 3 times from BHI Agarmodium under the state of 37°C and 2.4 Hrs.
Samples of each germ passed through S.S. unit in the amount of 5 liter/mm and 10 liter/mm are collected into the sterilized vessel of each and conducted testing in acordance with the rule of membrance filtering method as prescribed in the Korean Medicine General Testing Procedures.
2. Results
Germs, tested

Numbers of
Germs before
Passing thru
S.S.

Numbers of
Germs after
Passed thru
S.S.

Percentage
of
sterilized(%)

Residuals

E.Coli

3.75x105/ml

5/ml

99.99

none

P.Aeruginasa

3.75x105/ml

0.4/ml

100

none

B.Subtilis

1.25x104/ml

1.5x10/ml

98.8

none
Dimensions